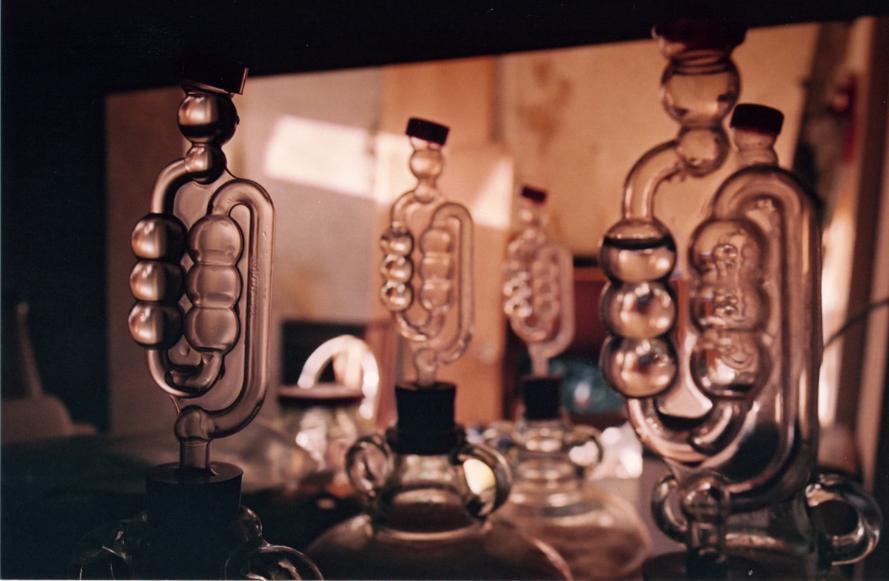 Chateau Lausanne
Latest update: 1st July, 2010
Something to dispel the gloom - wine production to restart!
Unfortunately winemaking fizzled out in mid-2007 and no wines have been made since. This was due to a combination of factors - my work took up an increasing amount of my time, growing offspring, changes in the family lifestyle and major repairs to floors all conspired to halt this and to top it all, the cost of bringing oranges back to the UK from Spain increased dramatically in the summer of 2007; we experimented with juicing and then freezing orange juice in Spain before returning to the UK but this wasn't really a satisfactory alternative and was promptly knocked on the head by the ban on liquids in airline cabin baggage imposed in September 2007.
However, we are now in a recession and this has actually brought two blessings - one is we have a lot more free time and the other is the imperative to save money by making our own wines. Production will restart in July on a small scale concentrating on a chardonnay-style white wine and an experimental orange wine to the same recipe as before will follow, but this time made with oranges bought from a local shop.
So although the summer 2010 so far hasn't been too brilliant and the worsening economy & looming austerity is a real downer, our wines are guaranteed to lift your spirits and help you forget how bad things really are.
Our wines
---
Early in 2005, looking for something different to do at home that didn't involve concrete mixers and a lot of mess, I thought of the eight demijohns that had been gathering dust in the cellar for at least 20 years. So one day in the late summer, I decided to try my hand at making wine at home. Having fond memories of the delicious apricot wine made by a Suffolk country pub (the Eel's Foot, Eastbridge) near a hostel I stayed at during a school biology field trip when I was 17, I started off with an apricot wine kit. Although prepared with a minimum of equipment and not a very strong wine, it was an encouraging first attempt - beautifully clear and golden with a wonderful taste.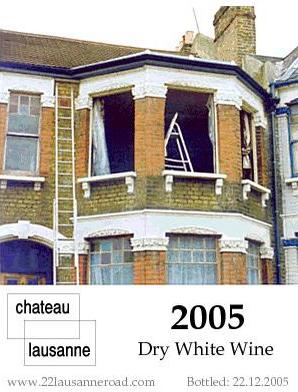 One thing led to another and we have now invested in more equipment and have at least 20 demijohns and even 6 gallon kegs of wine in various stages of fermentation or fining at any one time. There are empty bottles everywhere - in the kitchen on the floor & crowding around the sink, in the hall on the floor, in the garden even - awaiting the next bottling session. Yes, there is almost as much mess and disruption to daily domestic life as there is with our concrete creations but at least it's drinkable.
Older news...
16th June, 2006: The long awaited orange wine is now ready!
It has taken a long time to repeatedly filter and fine it to get the crystal clear polish that we wanted from this wine but I think you will agree that it has been well worth the wait. We had a big shock when the pilot batch was first sampled - strewth, it's strong! Measured alcohol content is 24% so we're not really sure if it can be called a 'wine'. Nontheless, it's a flexible and adaptable drink that can either be served chilled as a wonderful accommpaniment to a summer barbeque or drunk at room temperature as a liqueur.
Cocking an irreverent snook at certain mobile phone companies and also a well-known soft drink, we have named the new wine O24 (pronounced 'Oh, twenty-four') in recognition of its orange origins and alcoholic strength. More bottling is taking place on the weekend of the 17th/18th June so now you know where you should be this weekend ;-)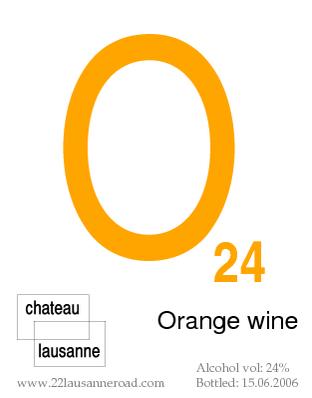 Even older news...
We have just started a 22.5 litre batch of experimental orange wine early this morning with the oranges we brought back from Spain last week - it smells good but we'll have to wait a few weeks to see what it turns out like. Somewhat fittingly for a fruit grown in a sun-drenched orchard, this wine is being 'Sun fermented' in the warm exhaust blast from a large Sun computer server which keeps the ferment at a nice constant 27 deg C.
Owing to the unexpected popularity of our wines and the resulting empty racks in the cellar, we have decided to double production rates from the beginning of next month to around 100 bottles/month. To cope with this and to make the filtering/bottling phase easier, the kitchen/utility room extension that has been planned for years (yes, the foundations and bottom 4 courses of brickwork are actually in place) will be redesigned and fitted out as a winery with appropriate deep sinks, trays, demi-john and bottle washing/draining facilities and the associated plumbing, etc. This will be good news for all of our drinkers.
Currently fermenting as at February 19th 2006 are plum and elderberry wines, the first wines of 2006 - these were started on January 21st but are still fermenting which means they will be quite strong wines when finished; the previous batch of plum, elderberry and crisp dry white wines were bottled today although the plums were incredibly murky and required a filter change mid-way through each demi-john. But they are gorgeous, especially the naturally-sweetened batch (12% ABV) while the synthetically-sweetened batch is stronger at 13.8% ABV.
We have just returned from a trip to Spain where our orchard really is a fantastic sight. Having brought back most of the satsuma crop and a lot of oranges, experimental satsuma and orange wines will be started this week - stay posted for further news on these developments. If these are successful, we will probably start producing these wines on the premises in Spain for the benefit of friends and visitors although there will be some technical difficulties there with temperature control, etc.
The cellar building work mentioned below has been postponed until the 'winery' is completed, hopefully this summer (2006).
We've now started filtering our wines just before the final stages of sweetening (if approriate), stabilising & preserving, which results in absolutely brilliant, crystal-clear wines and the country 'white' wines show some really gorgeous colours.
The wines seem to be becoming increasingly popular and after the Christmas festivities, some building work is planned for the cellar to improve post-fermentation facilities. This will involve more concrete mixing.
We have just been presented with an enormous wine rack (thanks Emily & Adrian!) capable of storing 72 bottles. This will go down into the cellar this week and we'll now have to work really hard to fill it.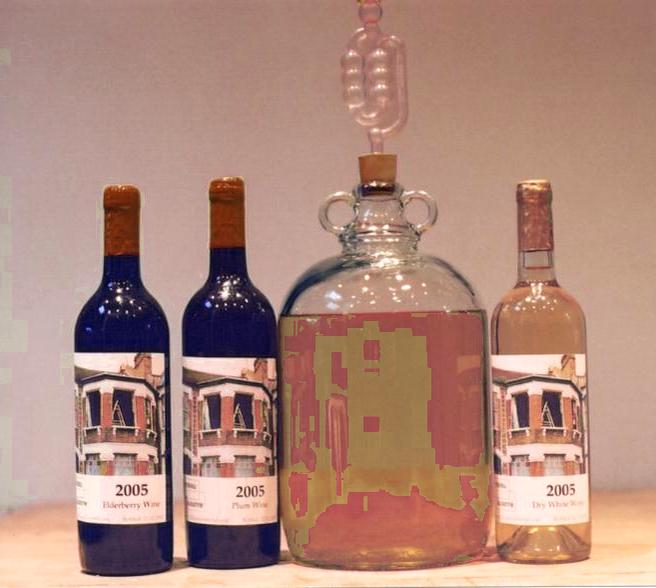 If you are reading this after following a link from the label on one of our wines, we really do hope you enjoy your wine and if you have any comments or suggestions, you can mail us and let us know. Also, if you would like some more wine, let us know - we currently (February 19th) have plum, elderberry and crisp dry white wines in stock. Future plans include a prototype orange wine - if this is successful then we will make this over in Spain.
We are often asked "How strong are the wines?" Well, the fruit wines generally contain about 8% alcohol, the Reisling is 12% but our last batch of Chardonnay attained a staggering 22% when measured with a vinometer and gave the tester a stupendous hangover. We are planning to make some more of this particular wine, which will be aptly-named named Binge 22 Chardonnay.
We are also asked how much of it we get through on the premises - the answer is surprisingly little. The fun is in making it and sampling it and most of it is given away; there's nothing I like more after a long day mixing, bottling, etc than an ice cold Carlsberg lager.
Finally, we would like to wish all our visitors and wine drinkers a very happy and prosperous New Year in 2006.
---
Last updated: 1.07.2010